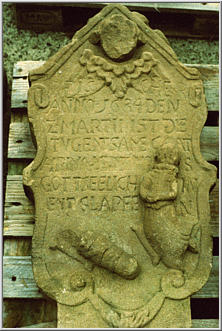 The leftovers of past generations come probably from the historical Kirchhof around the Spenger church and after its dissolution on the today's cemetery were shifted.
The oldest gravestone reminded of Katharina of Ledebur, which died 1634, and shows a representation of its dead born child. From 17., 18. and 19. Century come eight further stones.
Traces of the family Ledebur: The Spenger restaurant historian arranges this gravestone August weir-breaks to the mill castle too. It reminds of Cathrina of Ledebur, which died 1634 with the birth of its second child. The dead born child is explained on the gravestone as a childchild child, besides a woman figure is in in accordance with ice ELT.
PHOTO: U: CHILD MAN
Source: Size EMS, 19.01.2000