It repeats the question placed, which meaning has the different representation of our coat of arms and which added to the coat of arms sign are permitted. Here therefore it some references, which are heraldisch important when drawing our coat of arms.

The coat of arms is the symbol for the knight, whose characteristic equipment is shown in the parts of the coat of arms. There is this its sign and its helmet with the distinctive marks of the family. Far one to the coat of arms the helmet cover, the cloth abflatternde of the helmet, which may have served as sun protection, anyhow however a Zierde was belonged. The old coats of arms do not have further components. Crowns, supporter etc. are newer date than our coat of arms.

That sign changed its form with the taste and style of the time in the course of the centuries. The following board shows the development of the sign forms over the centuries.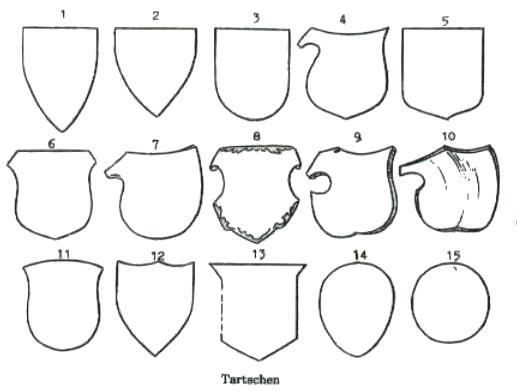 The slim, down pointedly approaching sign to approximately 1300 one used. The oldest Ledebur seal of 1298 has still this form. With the seals of the center 14. Century was already somewhat broader that sign, approached however still down pointedly. In the baroque one represented the sign for instance in the form outlined as number 8. An example of it is the coat of arms at the who castle. The illustrations 1-11 represent heraldisch acceptable, in each case in their time valid coat of arms forms. The sign forms 12-15 became occasionally in 18. And 19. Used, apply for century however with many specialists as not coat of arms-moderately. It is heraldisch permitted to adapt the sign form the respective time mode. One may select however no form, which is older than the date of the award of the coat of arms. The uradeligen Ledebur has thereby the free choice whether they represent their coat of arms in the style of the first proof of the family or in a later form. At families, those their aristocracy e.g. in 19. Century received, would not be not correct the choice of the old sign form.
© Gerhard Freiherr v.Ledebur